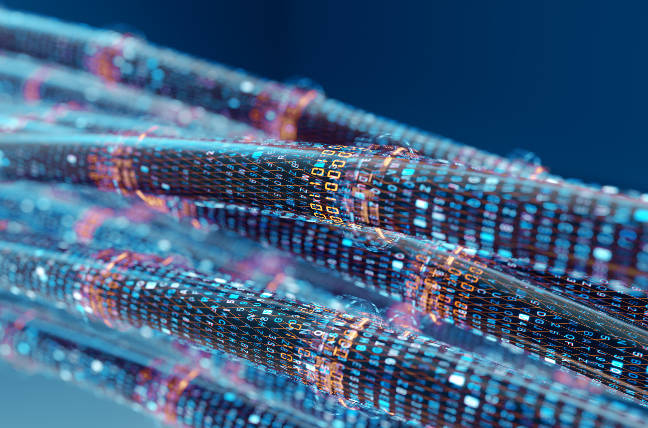 Why investing in network infrastructure pays off digital learning dividends • The Register
Sponsored As of early 2021, 10% of total registered learners globally are still affected by temporary school closures as governments try to stem the spread of the COVID-19 pandemic, Institute data shows UNESCO Statistics Office. Many countries have strived to build resilient systems so that learning can continue to happen anywhere and anytime through classroom, online or hybrid learning.
For school boards, principals and administrators, priorities should look to network upgrades or updates to foster effective digital learning. Most importantly, they can assess and choose network infrastructure solutions that help reap good digital learning dividends by imparting 21st century skills, or the 4Cs of creativity, critical thinking, communication and collaboration, in addition to the 3Rs of reading, writing and arithmetic.
The role of network infrastructure is particularly crucial in supporting the digital learning transition at all levels. Where education was once concentrated in school buildings, it is now accessible wherever students and teachers have connectivity and access to the Internet.
Blended learning, flipped classes, gamification and other modern pedagogies depend on fast and reliable connectivity at school. Wi-Fi and wired networks allow students with mobile devices to access the learning tools they need.
CommScope has identified challenges in the "Five Phases of the Digital Learning Transition" as digital tools allow educators to evolve from lab-centered, teacher-centered, student-centered, student-centered. community and world-centered.
"Each phase has its own infrastructure requirements to establish a suitable foundation, such as multi-gigabit networks, Wi-Fi 6, Cat 6A cabling, cloud-managed networks, and ultimately the Internet of Things. objects (IoT) and LTE to increase efficiency and improve fairness. Says Rich Nedwich, global education director at CommScope.
Smoother transitions
To facilitate these transitional phases of digital learning, CommScope's RUCKUS wired and wireless network infrastructure portfolio covers every user and connected system with a single, unified framework designed for scalability, security and reliability.
In addition, with RUCKUS IoT Suite, campus LED lighting, surveillance cameras, alarms, smart ID cards and more work together to facilitate instant emergency notifications between campuses in the event of an emergency. fire or security situation. RUCKUS ICX switches bring together IT and OT under one roof to control Wi-Fi access points, video surveillance, security cameras and other connected devices.
These products address three key concerns of IT administrators planning to upgrade network infrastructure to facilitate digital learning transitions:

Scaling broadband and network capacity to support more bandwidth-hungry devices and applications.

SYSTIMAX CommScope structured cabling lays the foundation for a converged network that supports speeds of up to 100 Gbps with headroom to meet future needs. This is complemented by RUCKUS WLAN solutions from CommScope which provide high speed Wi-Fi connectivity indoors and outdoors and RUCKUS ICX long distance stackable switching between floors or buildings up to 10 km away.
For example, Rugby School Thailand needed a scalable wired and wireless infrastructure that could grow with its population of students and faculty. It has deployed CommScope RUCKUS indoor and outdoor access points (APs) and ICX switches on its 80-acre campus. The network was designed to support more simultaneous connections and frequent use of digital learning and online video as part of the daily schedule.

Protect student data from abuse or breaches.

In higher education, more and more colleges and universities are adopting IoT smart home technologies as part of a modern smart campus to attract potential students. Obviously, as these IoT initiatives progress, more devices connected to the school network will contribute to the privacy and security challenges.
An important Smart Campus experience is providing each student with a personal, private network that looks and acts like home Wi-Fi. For example, students connected to CommScope's Smart Campus Personal Student Network can access their devices on campus, send a job to their home printer, or stream video from their personal media server to a smartphone, etc.
With each student assigned to a private VLAN using RUCKUS Cloudpath software, the college not only reduces the network attack surface, but also ensures that malware cannot spread beyond the home network. a student. The IT team can easily troubleshoot each student's small private domain or lock down a student using the network for unauthorized or malicious activity.
In pursuit of advanced network security, Jaypee University of Information Technology (JUIT) in northern India, located on a large campus covering over 7,000 square meters of rugged terrain, has deployed SmartZone controllers to facilitate application of unified policies on wired and wireless networks.
The creation of granular policy rules allows network segmentation to be based on the security and policy needs of the educational institution. SmartZone also offers unauthorized access point detection, interference detection and mitigation, as well as access point and guest networking services.
As an essential solution to secure digital learning, the Cloudpath enrollment system accelerates the secure onboarding of devices requesting network access for the first time.
The Cloudpath RADIUS policy engine enables dynamic network access policy and authorization checks in response to changing conditions after a user logs in. For example, elementary school students may be allowed to access video streaming sites only at certain times of the day or in a certain area of ​​campus.
At Dalian Neusoft Information University in China, the RUCKUS Cloudpath enrollment system freed users and IT staff from tedious authentication processes for wired and wireless devices. The software also eliminates unauthorized access to the Internet as well as internal networks.

Establish reliable connectivity and inventory while minimizing network downtime for blended and distance learning.

At every phase of the digital learning transition, reliable wired, wireless and mobile connectivity is needed to enable disparate IT infrastructure and digital learning systems to interact.
Solutions such as RUCKUS Analytics and CommScope's automated imVision infrastructure management provide in-depth, real-time information on network health and security to reduce downtime and prevent service degradation.
Educational institutions have used the network service validation feature of RUCKUS Analytics to test network readiness based on synthetic test traffic from Wi-Fi access points. It is important to know, for example, that the a classroom network is ready for reopening or an upcoming test. RUCKUS Analytics standardized reports provide visibility into network performance, traffic patterns, application usage and more.
Meanwhile, a K-12 school in the United States used the imVision circuit trace feature to troubleshoot and restore power and connectivity to its PoE IP cameras, and the IT department of a university in the Middle region. -Orient-Afrique used the alert in the event of imVision's displacement. function to receive notifications of a moved or missing printer to locate it and quickly restore it to its original location.
Digital dividends
During this time of pandemic-accelerated education transformation, CommScope solutions facilitate digital transitions and establish scalable, secure and reliable connectivity for effective online or hybrid learning.
Sponsored by CommScope®