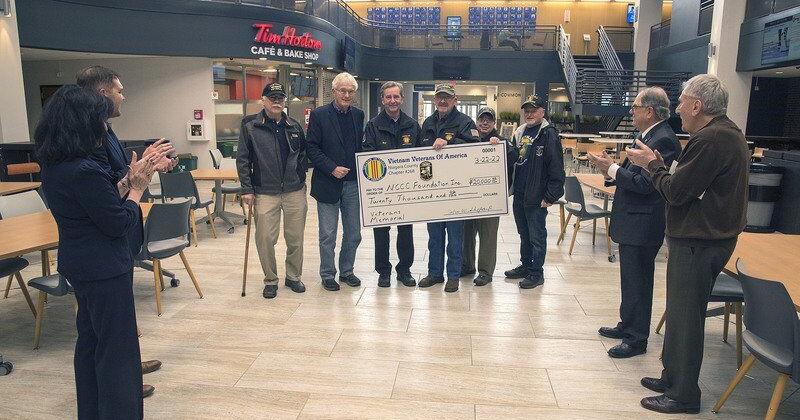 Vietnam Veterans donate to NCCC Memorial Park | Local News
SANBORN – Niagara County Community College Veterans Park was established in 1976 by Vietnam veterans who attended the school at the time. On Tuesday, Vietnam Veterans of America Chapter 268 continued that legacy by contributing $20,000 towards the expansion and relocation of NCCC Veterans Memorial Park.
Within the Memorial Park will be a monument for area veterans, their families, and NCCC alumni and staff to commemorate their own service, as well as the service of their loved ones. The names of veterans and the military branch in which they served will be engraved on the monument and the pews.
VVA #268 spokesperson Gordy Bellinger said the group wanted to create a legacy for its generation of veterans.
"We are very proud to be able to leave a legacy behind us," he said. "Especially in an educational institution like this where the first monument was erected in 76, which was (made by) Vietnam veterans. … It's been 46 years and we've taken care of it. We realized hence this new memorial will be there as long as this educational institution is there.
The amount of the check — $20,000 — is the largest check the chapter has handed over, Bellinger said, and noted that wouldn't be possible except the money was inherited from a former band member, Larry. Cooper.
"We want to make sure his name is on this memorial with all the other chapter members," Bellinger said.
NCCC Veterans Services Coordinator Joe Potalivo, an Iraqi veteran, said the donation was amazing.
"It's their generation," Potalivo said. "You have to consider each generation of veterans. You have the WWI veteran all the way up to the Vietnam veteran. … It's hard not to say that they weren't champions for us.
Potalivo said Chapter #268 has continuously helped his office and the community.
"It sounds small, but when our coffee maker broke down, they replaced it with a Keurig," he said. "Little things like that. I was going to pay for it myself, but they said, "No, we'll take care of you. They have always wanted to take care of the younger generation of vets in hopes that we will take care of the next generation.
To date, since 1985 when they were formed, VVA #268 has distributed over $180,000 to the NCCC, including scholarships to area high school graduates to attend college.