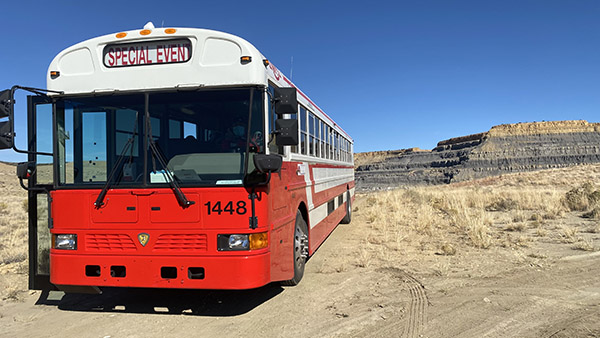 UNM Law School Hosts "Environmental Justice Bus Tour" in Pueblo of Laguna :: Law School
November 11, 2021
By Katelyn Dickensheets, UNMSOL '23
On Friday, November 5, UNM Law School led a group of visiting UNM faculty and students to Laguna Pueblo, about 40 miles west of Albuquerque, to learn more about the history of uranium mining and the disproportionate impacts of uranium contamination on indigenous communities in the Southwest. The group included students and faculty from across the University, including UNM Law as well as undergraduate and graduate programs in water resources, political science, civil engineering and geography, and environmental studies.
Located on Laguna Pueblo, the Jackpile-Paguate uranium mine site, once one of the largest in the world, operated from 1952 to 1982, moved around 400 million tonnes of rock and produced around 25 million tonnes of uranium ore. While many pits and mining features have now been filled in or capped, toxic metals, including uranium, still contaminate the environment and pose serious health risks to the Pueblo community.
In 2013, the United States Environmental Protection Agency (EPA) placed the old mine on the national priority list, making the site eligible for cleanup under the federal Superfund program. Currently, under an agreement with the EPA, Atlantic Richfield Company, one of the potentially liable parties under the Superfund Act, is conducting a remedial investigation and feasibility study to characterize the nature and extent of the contamination and identify alternatives. Additional studies on air and sea transport of mine metals are being carried out by the UNM Superfund Research Center METALS program.
The Laguna Pueblo tour was organized by the Pueblo Department of Environment and Natural Resources (ENRD). ENRD staff explained much of the story as well as ongoing activities to monitor and address concerns about uranium contamination on the Pueblo. ENRD staff demonstrated a technique for sampling water using a handheld device to monitor toxicity levels in the Rio Paguate. Tour participants were also fortunate to be joined by the Pueblo's First Lieutenant Governor Ken Tiller. Lieutenant Governor Tiller provided extraordinary insight and personal experience at the site, having witnessed each of its phases, from active mining to mine closure, health impacts and l economy of the community.
The tour ended with a trip down a dirt track to the Jackpile pit itself, where previously 'plugged' piles of rubbish could be seen clearly eroding. Tour participants also stopped for a group photo, grateful for the science that produced a COVID vaccine (100% of participants were fully vaccinated) and very grateful to our hosts at Laguna Pueblo for allowing us this opportunity. extraordinary learning from experience. For more information, please contact Professor Cliff Villa at [email protected].