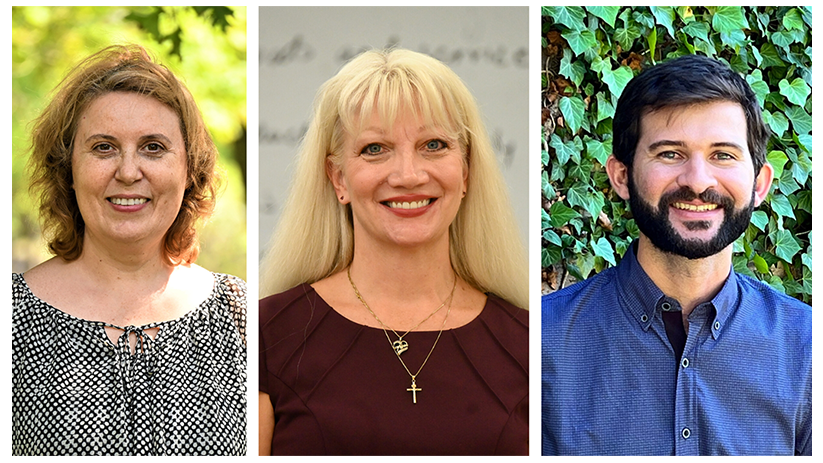 Three faculty members hired at Penn State Wilkes-Barre
DALLAS, Pa. — Penn State Wilkes-Barre has hired three full-time faculty, Chancellor Lynda Goldstein announced. Adriana Dinescu has been appointed assistant professor of chemistry; Lori Dunn, previously an on-campus adjunct teacher, was hired as a corporate lecturer; and Henrique Oliveira was appointed assistant professor of teaching in topographical engineering. All three are teaching classes for the fall semester.
"We welcome Dr. Dinescu and Dr. Oliveira to Penn State Wilkes-Barre and are delighted that Ms. Dunn will continue to teach here," Goldstein said. "Their commitment to education, research, and developing relationships with students will be felt throughout our campus and beyond."
ACS Fellow Dinescu holds a PhD in Inorganic Computational Chemistry from the University of North Texas, an MS in Chemistry from the University of North Texas, and a BS in Chemistry from the University of North Texas. Polytechnic University of Bucharest in Romania. She completed postdoctoral training at the Idaho National Laboratory and Washington State University.
Dinescu previously worked as a tenured associate professor of chemistry and biochemistry at Centenary University in New Jersey, an assistant professor of chemistry at Wilkes University, and a lecturer at Butler University in Indiana. She has taught graduate level courses in physical chemistry, computational chemistry, biochemistry and environment, toxicology, and inorganic chemistry, as well as introductory chemistry courses for non-science majors. Dinescu designed and implemented new experiments for courses with a laboratory component.
At Wilkes University, she coordinated all general chemistry labs and was also co-counsellor of the Wilkes University Chemistry Club, which received commendable and outstanding awards from the American Chemical Society (ACS) during this time.
"I look forward to being part of the tight-knit Penn State Wilkes-Barre community and I look forward to meeting my students this fall," Dinescu said. "As soon as I set foot on this Penn State campus, I was impressed by its splendor. Then I met great people who are passionate about student success and well-being. As a new faculty member, it will be an honor to serve and support our students throughout their academic journey. »
Dunn has been a part-time instructor at Penn State Wilkes-Barre since 2006, primarily teaching tax and financial and management accounting courses. She has also taught accounting courses at Penn State's World Campus since 2015.
A chartered accountant, Dunn also worked as a full-time faculty member at Luzerne County Community College, where she also served as business department coordinator and adjunct professor at Misericordia University. In her 20 year career in education, she has taught courses in accounting, cost accounting, tax accounting, small business management, taxation, management, marketing, business communication, finance , personal management and more.
Prior to becoming an educator, Dunn worked professionally in her field as a controller, tax supervisor and senior accountant. She holds a Masters in Taxation from King's College and a bachelor's degree in accounting from King's College. She is the past president of the Northeast Chapter of the Institute of Public Accountants of Pennsylvania (PICPA) and has volunteered on PICPA committees at the local and state level.
"I'm very excited to join the Penn State Wilkes-Barre team," Dunn said. "I look forward to participating in the education and growth of students from college through graduation and beyond. Having a positive effect on someone's life is an incredible experience for me.
Oliveira recently worked as an Assistant Professor at the University of Campinas – Brazil, where he was Associate Head of Department for the Department of Infrastructure and Environment. He taught undergraduate courses in geomatics (another name for surveying engineering) to students enrolled in civil engineering, architecture, agricultural engineering, and geology, as well as graduate courses to civil engineering students. He was previously Assistant Professor at the Federal University of Uberlândia (UFU) – Brazilian School of Cartographic Engineering.
Oliveira has worked on projects in various fields, including the acquisition of spatial data from different sensors (LiDAR, visible and multispectral imagery, GNSS receivers and others), the development of a low-cost mobile mapping system, l integration of sensors for transport purposes, aerial photogrammetry use of low-cost UAVs as a platform, precision agriculture, generation of software for image and point cloud processing, evaluation of different techniques for 3D model generation, Internet of Things and smart cities. He has also developed virtual surveying materials to help students understand how surveying techniques are applied in the field.
Oliveira obtained a doctorate and a master's degree in cartographic sciences from the State University of São Paulo and a bachelor's degree in cartographic engineering, also from the State University of São Paulo. During his doctoral studies, he had the opportunity to develop part of his research at Purdue University within the Digital Photogrammetry Research Group.
"It's a pleasure to be part of the Penn State Wilkes-Barre team," Oliveira said. "I am thrilled to join the surveying program and collaborate in the high standard of education for Penn State students. I hope to help the surveying program maintain its momentum and achieve its long-term goals.