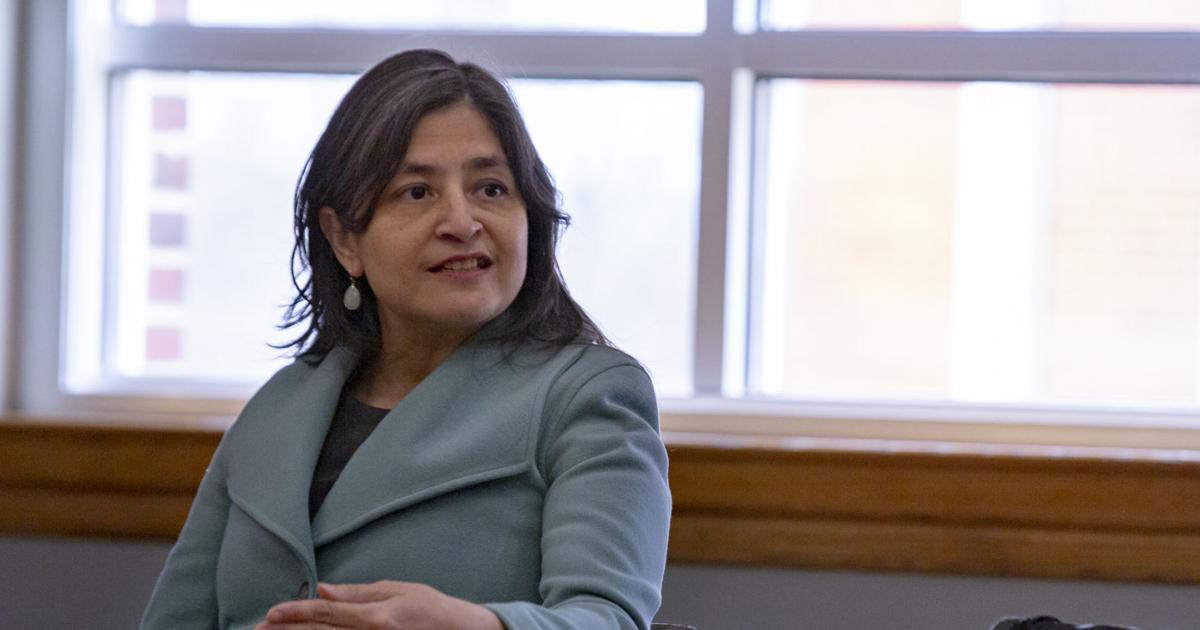 State Department of Education officials visit Juniata | Local
On Friday, Juniata College faculty, administration and students were visited by the state Department of Education to discuss the success of their It's On Us program.
The college has received five times the state-distributed grant that sponsors programs designed to prevent interpersonal violence and sexual assault on campus. Office of Post-Secondary and Higher Education Assistant Secretary Dr. Tanya I. Garcia and Pennsylvania Office of Post-Secondary and Adult Education Director Dr. Kim McCurdy visited campus leaders to discuss the impact of the grant and its programming on the Juniata community.
Garcia says it's rare for an educational institution to receive the grant for five consecutive years. She said she was immensely impressed with the impact of It's On Us programs and the many ways they are integrated into student life at Juniata.
"Just think that in addition to all the great education the students get here, they're also equipped to be better human beings, and they're going to take it with them no matter what their future holds. I'm just extremely proud and feel lucky to have been able to learn from a five-fold beneficiary," Garcia said.
Among those present for the discussion were Juniata College's Office for Interpersonal Violence Prevention Director Jennifer Pencek, Associate Athletic Director Scott McKenzie, Vice President for Student Life, Dean of Students and Coordinator of the Acting Title IX Matthew Damschroder, Senior Associate Dean of Health. and welfare Jody Althouse and college president James Troha. Student leaders from programs run by the Office for the Prevention of Interpersonal Violence were also on hand to share the impact of the It's About Us programs.
During the discussion, Troha mentioned that even beginning to address sexual and interpersonal violence in Juniata would first mean acknowledging the problem. Althouse said she warned him things were going to get worse before they got better.
"It's a bit risky to go after these funds (it's on us), to acknowledge that it's happening," Troha said.
Althouse said that before launching these programs — which, among other things, encouraged reporting of sexual violence and created appropriate channels to address the issue — Juniata recorded about two assaults a year.
In the first year, that number jumped to 21. Althouse said seeing those numbers increase is actually a success, because these assaults need to be recorded before they can be stopped.
"It was a cultural shift for us that I think we all embraced… We know it's happening. It's not that we (specifically) have a problem. These problems are everywhere. We need to bring it to the surface and fix it, otherwise it will not be taken care of and the safety of our students will be put at risk," Troha said. "It's become part of who we are culturally to have It's On Us in our hallways, to have the Green Dot pieces and for us to not be afraid to address these issues."
Juniata College recently received $30,000 in December for the final cycle of the It's On Us grant. This money is used to support the Office of Interpersonal Violence, also known as Safe Place to Talk (SPoT); Green Dot retreats where nominated student leaders learn skills such as bystander intervention and peer counseling skills; and related "It's About Us" marketing materials such as T-shirts that students are encouraged to wear on the fifth of each month.
Pencek says they have worked hard to not only include senior leadership, such as those attending the discussion, but also to introduce educational materials, safety gear and survivor support at all levels of the college. She said that even as prospective students come to campus for tours, they are made aware of the steps Juniata is taking to address violence on its campus. This approach then trickles down to all other aspects of student life, including athletics.
"Everyone has the same mission which is to keep our campus and our students safe," Pencek said.
Garcia and McCurdy visited several colleges that have received the grant multiple times to learn more about their individual successes. They both left Juniata very impressed with the students they had met and the programs they had learned about.
"You have received the grant five times. Few colleges have done this, and we have a lot to learn from what you've done," Garcia said.