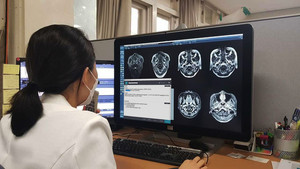 PNUH presents Vuno's AI-based medical voice recognition solution
Vuno announced Monday that the Pusan ​​National University Hospital (PNUH) has presented its artificial intelligence-based medical voice recognition solution VENO Med-DeepASR.
The platform is a tailor-made speech recognition solution with 99% training data focusing on thousands of hours of medical data. It accurately documents medical terms that contain long and complex words or Korean and English texts mixed in real time. According to the company, it recorded over 98% speech recognition accuracy and 1.5 times faster medical document creation time than when done by hand.
Vuno said it has proven its excellent medical speech recognition technology during presentations at prestigious speech recognition conferences, such as INTERSPEECH and the International Conference on Acoustics, Speech and Signal Processing (ICASSP)
So far, more than 20 Korean hospitals have introduced the system. These hospitals include Asan Medical Center, Inha University Hospital, Ewha Mokdong University Hospital, Ewha Womans University Hospital in Seoul, Yongin Severance Hospital, Gachon Gil Hospital, Kyungpook National University Hospital and Gangnam Sacred Heart Hospital.
The company is continually upgrading the platform based on feedback from approximately 300 medical staff who use the system.
"VUNO Med-DeepASR helps improve the efficiency of reading tasks through its excellent performance in accurately recognizing complex medical terms," said Professor Kim Seok of the Department of Radiology, PNUH. "With this, we can focus on providing quality medical services to patients by creating a smarter medical environment. "
Vuno CEO Kim Hyun-jun said, "VUNO Med-DeepASR is a personalized speech recognition solution for the medical field with the best performance in Korea. "
He added that the company will do its best to improve process efficiency in more medical fields with our AI-based medical voice recognition solution.