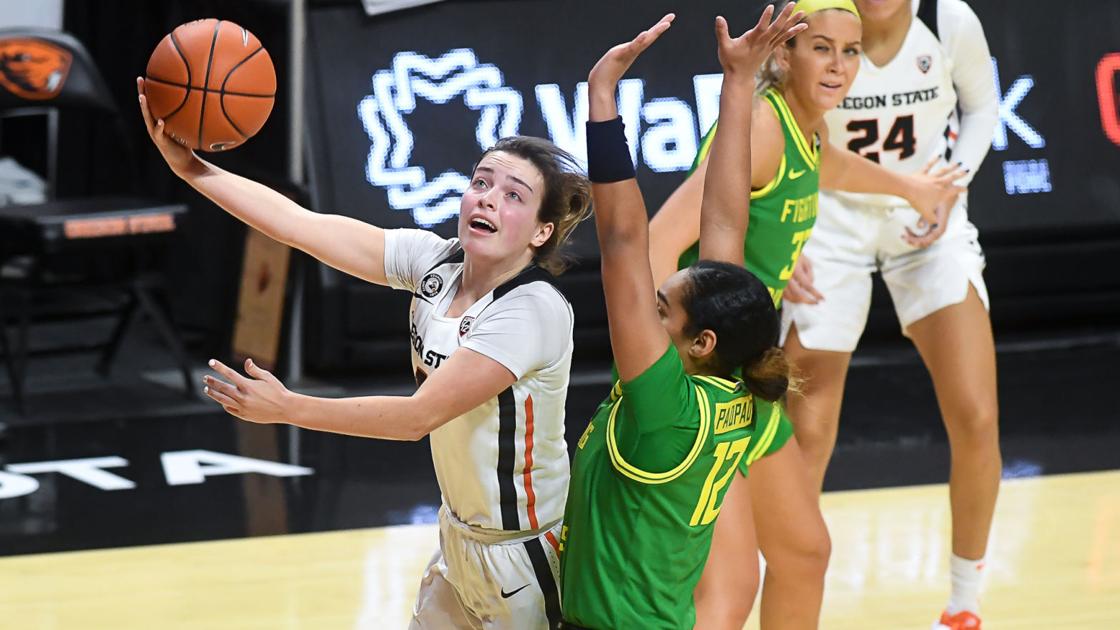 OSU Women's Basketball: Mannen's hard work pays off | Basketball
The Oregon State women's basketball team underwent a changing of the guard this summer. Star Aleah Goodman left after her senior year and three other players left the program for destinations closer to home.
When the dust settled, there were only two returning guards on the roster: rookie Talia von Oelhoffen and backup Noelle Mannen.
Mannen joined the program as a redshirt rookie for the 2019-20 season after an outstanding career at Valley Catholic High in Beaverton. She chose the state of Oregon after her initial plan to walk to the University of San Francisco didn't work.
After two years of presence, Mannen's status changed this summer when she received a scholarship. The announcement was made during a team meeting that turned into a celebration of his hard work.
"It was really special. I had no idea this was going to happen and neither did any of my teammates, to my knowledge. So it was only the coaches who knew and it was just a really special moment. Sharing it with all the girls, I think, made it even more special, "Mannen said.
Von Oelhoffen was asked about this meeting during the team's media day.
"It was amazing and it was really moving," said von Oelhoffen. "Everyone was in tears. It was so cool to see that because she worked so hard. She really won that.
Head coach Scott Rueck said Mannen has become a leader within the team.
"Noelle did an amazing job," Rueck said. "This is her third year in the gym, she knows what's going on and she's setting the bar high with the way she competes every day."
Mannen played 15 games his first year and eight games last season. When setting her own goals, she takes a broader view of the contributions she can make to the team.
"My biggest goal is always to do whatever I can to help our team reach their full potential. Obviously there is so much that goes into what we do and how we can be the best we can be, and that requires things both on and off the pitch, "Mannen said.
Support local media coverage and those who report it by subscribing to the Corvallis Gazette-Times.
At the same time, he does not lack confidence in his ability to be productive in the field. One of the best results of joining the Oregon State program has been her own development as a player. Mannen has no doubt that working with these coaches and training against these teammates has made her the best player she can be.
She discussed it in a preseason one-on-one meeting with Rueck.
"I told him how much it still blows me to think about everything I've learned and how much I've grown as a basketball player," Mannen said.
Mannen has already graduated in Political Science and started his graduate program in Interdisciplinary Studies. She pointed out that about half of the team is in graduate school.
Jovana Subasic (WA) and Ellie Mack (Bucknell) joined the squad as graduate transfers a year ago and, due to the COVID season, were given an additional year of eligibility. Téa Adams (San Diego State) and Emily Codding (Saint Mary's) arrived on graduate transfer this season. And Mannen said junior redshirt Taya Corosdale has already graduated and is starting her masters.
That maturity may be part of why it feels like a very special team for Mannen. She said the team still has positive energy, but this year feels different "in a good way".
"This year, with the new people we have and this mix of tools and skills that we all have, it's a little different," Mannen said. "There is a very good feeling with this team. "
Oregon State unofficially announced its season on Saturday with a 73-43 home victory over Western Washington. The Beavers will start the regular season with a clash against Loyola Marymount on Friday at 8 p.m. at the Gill Coliseum.