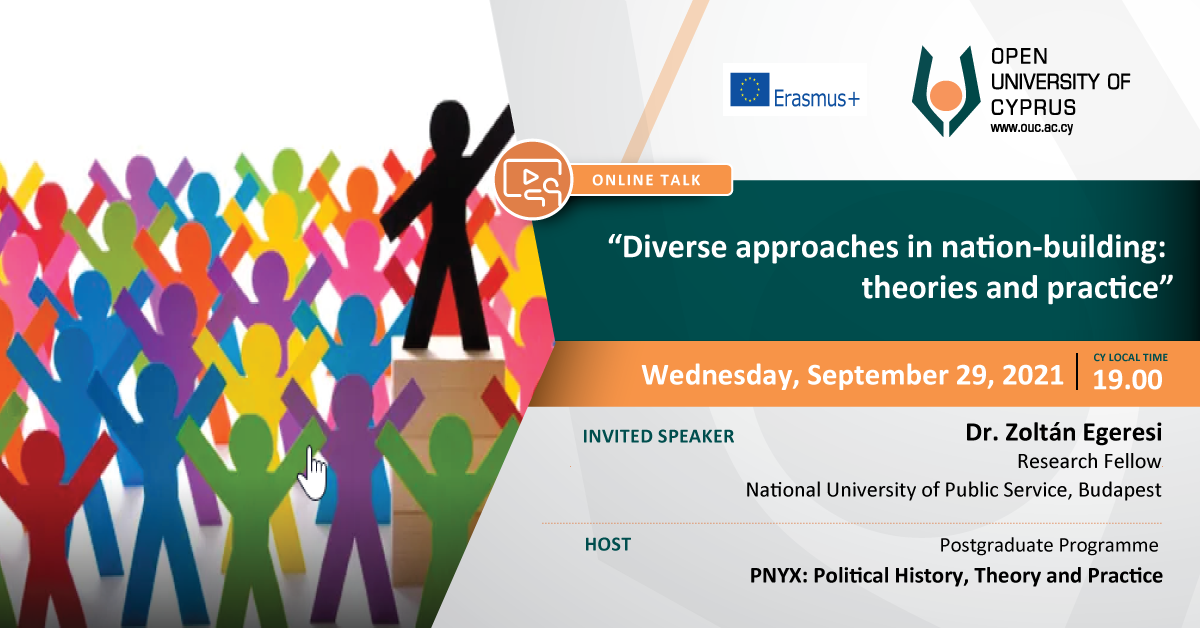 Open University Public Lecture on Nation Building
A researcher based in Hungary will give a free online public lecture on various approaches to nation building at the Open University of Cyprus on Wednesday.
Dr Zoltán Egeresi, researcher at the Hungarian National University of the Civil Service is the guest speaker of an online public conference on Various approaches in nation-building: theories and practice, which is organized by the PNYX postgraduate program : Political History, Theory and Practice of the Open University of Cyprus (OUC).
The conference will take place on Wednesday, September 29, 2021 at 7:00 p.m. local time and will be streamed live via OUC e-learning tools via the web link https://tinyurl.com/r2a3sd8r.
The public lecture aims to provide an overview of nation building processes by highlighting the main concepts of nation building ranging from primordial (nations have always existed) to modernist (nations are the product of political maneuvers elites, subsequently, they were built mainly as a result of a top-down construction process (usually in the 19th and 20th centuries).
He also proposes a third concept for the emergence of nations, the approach of Anthony D. Smith called "ethnosymbolist", arguing that a cultural and ethnic core is necessary for the creation of a nation.
The conference will highlight France and Hungary as the main case studies.
Dr Zoltán Egeresi works as a researcher at the Institute for Strategic and Defense Studies of the National University of Public Sciences and at the Institute of Foreign Affairs and Trade in Budapest. He received his PhD from Corvinus University in 2019 and his thesis focused on Turkey's foreign policy in the Balkans.
He also holds an MA in International Studies from Corvinus University and a BA in History from Eötvös Loránd University. His main areas of research are Turkey and the Balkans. He teaches various courses, such as Nationalism Studies, South East European History and Geopolitics.
Dr Egeresi is visiting OUC for staff education program as part of the Erasmus + program during which he will give online lectures open to the public.