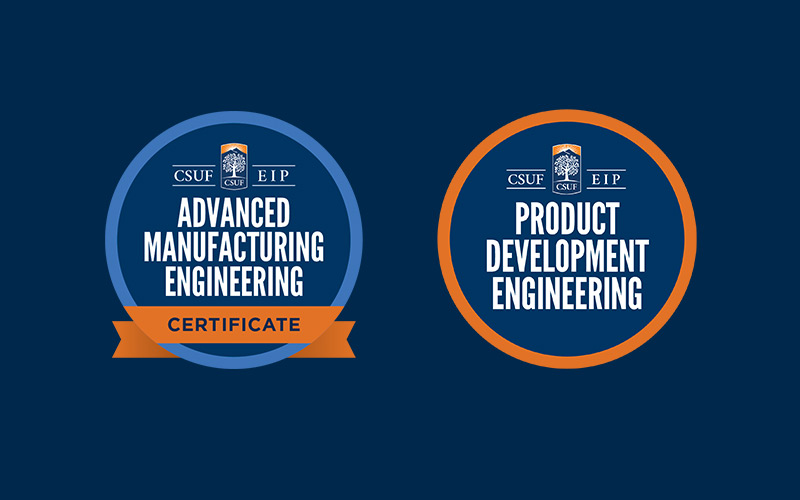 Make your resume stand out with a digital badge
In the competitive world of applying for jobs or simply networking online, it's important to stand out to employers as they sift through thousands of resumes and profiles online. What better way to do that in the age of technology than with a digital badge?
A digital badge is earned for completing a specific skill, micro-course, micro-certificate, class, certificate course, or program. It can then be added to your resume, website, social media page, or LinkedIn profile, giving employers a handy visual representation of your skills and credentials.
On that note, we are thrilled to announce that California State University, Fullerton (CSUF) Extension and International Programs are launching a digital badge for completing their Advanced Manufacturing Engineering Certificate program, a first at CSUF!
Upon completion of the program, you will receive an invitation to create an account and claim your digital badge at badr. Badgr is part of the Canvas learning management system used by CSUF, and it serves as an online platform to display all the digital badges you have earned.
"Digital badges are a great way to display your newly learned skills," said Christina Kim, Associate Director of EIP Program Development. "Plus, with the Badgr platform, you can grow an impressive portfolio of badges you've earned."
Are you ready to earn your own advanced manufacturing engineering digital badge and make your resume stand out? Sign up for the next class starting March 7! An engineering degree is not required, but a strong interest or experience in manufacturing is helpful.
If that doesn't work for you, don't worry. We are developing a new game-based learning microcredit program with digital badges that is expected to launch this fall.
Register now at https://extension.fullerton.edu/professionaldevelopment/certificates/amec