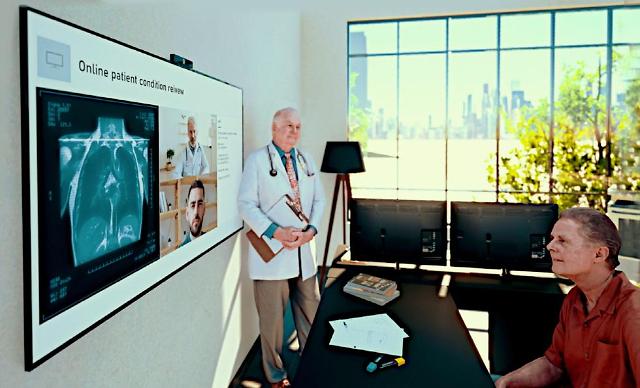 LG Electronics Unveils Cloud-Based Telehealth Solution Combined With Hospital Displays
SEOUL – LG Electronics has unveiled a telemedicine solution that can be used in hospitals in response to the growing demand for remote medical care. The solution can be used with screens for hospitals. Because it is a cloud-based service, it can be accessed from the outside without any location restrictions.
Based on a multilateral videoconferencing platform, the cloud-based solution can be used not only for telemedicine, but also for large-scale conferencing, LG Electronics said, adding that the solution can be easily linked to systems. built by individual hospitals, such as electronic health. records (DME).
LG Electronics developed the solution through a technical collaboration with ezCaretech, an electronic health records (EHR) provider derived from Seoul National University Hospital. An electronic health record (EHR) is the systematic collection of health information stored electronically in a digital format that can be shared among different health care settings.
"We will continue to dominate the commercial display market by providing integrated solutions optimized for installation space and purpose, from hardware to software," said Baek Ki-moon, Commercial Director of LG on August 25. Electronics, in a press release.
LG Electronics would accelerate its efforts to tap the hospital television market by providing integrated solutions based on differentiated software and display capabilities. The company offers a range of hospital televisions with various functions, allowing hospitals to create personalized home screens. As all televisions are connected to the same network, operators can easily modify content or control televisions installed in certain spaces.
Telemedicine is a service via electronic information technology and telecommunications which allows remote contact, care, advice and monitoring. Large hospitals in South Korea have shown a positive response, but some doctors still believe that telehealth could lead to the collapse of small and medium-sized hospitals. Since South Korea introduced its first telehealth pilot program in 2000, any attempt to revise a related medical law has failed to gain parliamentary approval, mainly due to strong opposition from doctors.
© Aju Business Daily & www.ajunews.com Copyright: All material on this site may not be reproduced, distributed, transmitted, posted, published or broadcast without permission of Aju News Corporation.