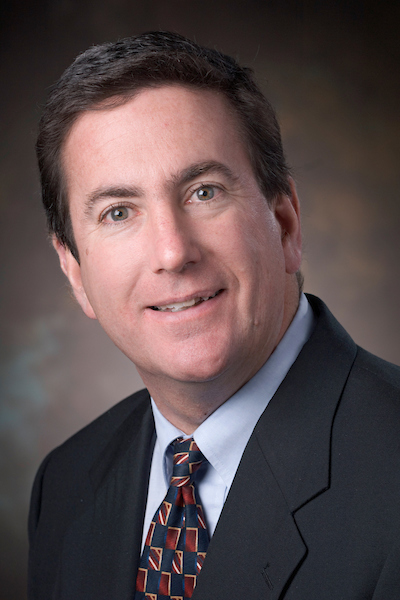 Jim Kahler, longtime member of the Sports Administration faculty and alumnus emeritus, will transition from full-time director-in-residence to director emeritus at the end of the semester.
The Ohio University (OHIO) AECOM Center for Sports Administration today announced that Jim Kahler, longtime faculty member and Master of Sports Administration (MSA) recipient Charles R Higgins Distinguished Alumnus (1994), will step down from full-time responsibilities and move into a Director Emeritus role with the AECOM Sports Administration Center at the end of the spring semester.
Kahler's 17 years of service on the faculty of the College of Business and the Department of Sports Administration are marked by many honors and achievements. Chief among them, he helped transition the MSA program to the College of Business, leading the MSA program and serving as the inaugural director of the AECOM Center for Sports Administration. During his tenure, Kahler was instrumental in building the MSA program to where it is today, SportBusiness World Ranking #1 for 8 of the 10 years of the award. He also played a key role in launching the Professional MSA (PMSA) online master's program, where he led the recruitment effort for the first three cohorts. In 2021, Kahler was honored and inducted into the Commission on Sport Management Accreditation (COSMA) Hall of Fame for his success in partnering with sports industry organizations to provide valuable experiential learning opportunities. to OHIO student athletics at all levels.
Kahler returned to his graduate alma mater program in 2005 after spending four years at Arizona State University, where he started their sports administration program within the WP Carey School of Business. Prior to entering academia, Kahler spent 11 years leading as senior vice president of sales and chief marketing officer for the Cleveland Cavaliers and was instrumental in Cleveland's successful hosting of the NBA All Game. -Star in 1997.. He also served a three-year term on the NBA's Marketing Advisory Committee and also provided sales consulting services to several professional sports teams and companies.
Kahler has long served on the steering committee of the National Sports Forum and also sits on the advisory board of In Stadium Advertising (Chicago, IL) and Navigate Research (Chicago, IL).
AECOM Center for Sports Administration Executive Director and MSA Director Matt Cacciato offered the following regarding Kahler's career at Ohio University.
"Jim Kahler's passion and dedication to Ohio University sports administration students, alumni and faculty is unparalleled. The success of the program over the past 17 years is directly attributable to Jim's hard work every day. Additionally, the volume of genuine, mutually beneficial relationships Jim has built over his years has provided hundreds of successful student internships, highly visible marketing exposure, and extremely significant revenue to enable our AECOM center to grow. "said Cacciato. "My ability to transition into roles previously held by Jim while he was here allowed me to learn first-hand from his in-depth knowledge of the institution, industry and alumni. Finally, Jim will continue to provide support in the newly created role of Director Emeritus for the AECOM Sports Administration Center.
Kahler earned his BSBA from Xavier University and later earned his master's degree from Ohio University. He and his wife Katie have lived in Athens for 17 years and are the proud parents of Peter (PMSA '20), Meaghan (PMSA '16), Jimmy and Caitlin, and also became grandparents for the first time in 2021.