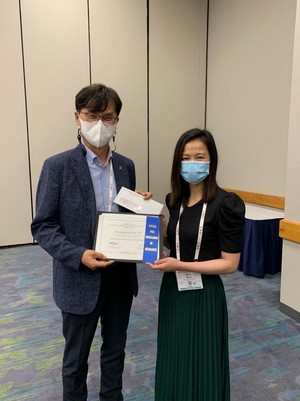 E&S Healthcare's Breast Cancer Diagnostic Kit Trial Result Wins Grand Prize at AACC 2022
E&S Healthcare said on Tuesday it won the best abstract and best paper award for presenting the world's first blood-based breast cancer diagnostic kit, the DxMe BC Kit, to the American Association for Clinical Chemistry (AACC ) 2022.
E&S Healthcare, a company specializing in biomarkers and in vitro diagnostics, participated in AACC 2022 in Chicago from July 26 to 28.
E&S Healthcare said it was the first Korean company to win both awards and recognition for its scientific and clinical merit and technological proficiency. Only 19 of the 640 articles were awarded and the company was selected based on the analysis of its clinical trials.
The E&S kit is the world's first in vitro diagnostic medical device to detect breast cancer using blood.
He conducted the clinical trial of DxMe BC kit on 1,032 subjects and conducted each test with Chungnam National University Hospital, Severance Hospital and Konyang University Hospital. As a result, the clinical sensitivity of the device has increased to 96.4% and the clinical specificity to 97.32%, proving excellent diagnostic performance.
A parallel analysis of the mammography and the DxMe BC kit confirmed that the clinical sensitivity was 99% and the clinical specificity 100%. Additionally, 93.6% of subjects initially deemed false by mammography results were found to be true positives using the DxMe BC Kit.
The company said it demonstrated the technical ability of the DxMe BC Kit to complement the diagnostic limitations of mammography.
"Our achievements at AACC confirmed the excellent performance of in vitro diagnostic medical devices for blood-based breast cancer detection, a key technology and business unit of the company," said Suh Kyoung-hoon, CEO of E&S Healthcare. "We will strive to become a global specialist in blood-based in vitro diagnostics through continuous research and development. »