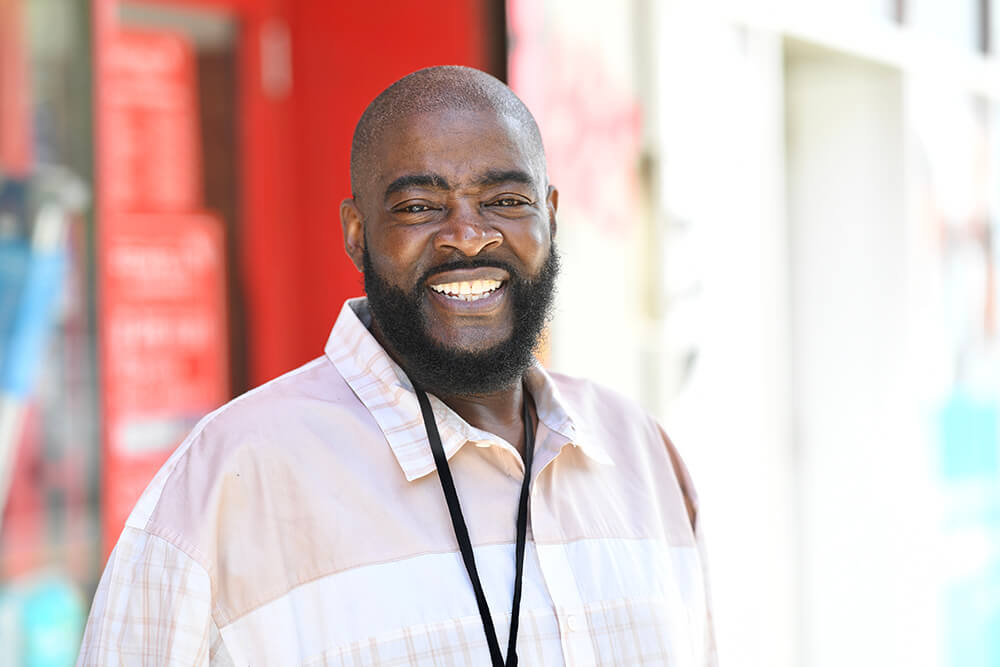 Combined Forces | Graduate School of Social Work
"Often it's the mental health issue that drives them to use or abuse the substance," says Roberts, a social worker who works with people with opioid use disorder (OUD) and other substance use disorders (SUD).
Roberts, a 2021 Touro Graduate School of Social Work (GSSW) alumnus, learned this idea and more during his one-year fellowship in a government-funded program. Together he trained Advanced Social Work and Clinical Mental Health Counseling students from the School of Health Sciences to treat opioid and substance use disorders.
Now in its third year, the Opioid Workforce Expansion Program (OWEP) engages students from both disciplines in interprofessional education – popularly known as IPE – taught by Touro faculty and external experts in both fields.
Learning together and from each other
OWEP is funded by a $1.3 million grant from the Health Resources and Services Administration (HRSA) of the US Department of Health and Human Services. Touro is one of the schools selected to participate in the program, which provides student stipends to help address the opioid crisis and other SUDs among medically underserved populations.
Students take classes at their individual Touro schools, while learning together and from each other through OWEP webinars and seminars. These working sessions expose them to the different OUD/SUD treatment models and how to apply this knowledge in the field during their internships.
"OWEP exposes students from both schools to the overall framework and content of their respective programs, while recognizing the different perspectives of social work and clinical mental health counseling. OWEP succeeds in increasing student understanding in a common language that helps them work together where they may not have had before. When you bring the two together, they gain more knowledge and insight," says Eric Levine, DSW, LMSW, Touro's director of social work alumni engagement, continuing education and development.
When the current cohort graduates next spring, Project OWEP will have graduated 66 fellows, working in more than 15 agencies across New York's five boroughs as well as Long Island, Rockland County and New Jersey.
In 2020-2021, fellows attended lectures on topics such as "motivational interviewing", "mindfulness as a treatment tool", and "addictions, trauma, grief and loss with OUD/SUD ". Through case study presentations to their peers and working in small breakout rooms, they discovered new and different ways of approaching addiction in an evolving field.
Today, Roberts applies collaborative learning to her full-time job at Bridging Access to Care in Brooklyn. "It made me notice some things that customers were saying," he explains. "I would go back and see diagnoses of major depression. Often it was sanity that helped them go astray.
Roberts credits OWEP with improving his ability to make such connections, which he says can lead to adjusting treatment plans or referrals to mental health clinics. "It was one of the main things I learned," he recalls. "Training puts him on your radar."
Brainstorm with the group
A highlight for Eliana Simon, CMHC, an OWEP Fellow in Touro's Mental Health Clinical Counseling Program, was researching and presenting a case study to the cohort. She says she's learned the value of digging deep into a patient's story, answering questions from colleagues, and brainstorming for others' perspectives.
"The patient had SUD with alcohol. I went through its whole story, when it started and why," Simon recalls. "The OWEP experience has helped me anticipate each question – about its diagnostic criteria, life stages, goals and setbacks."
Simon says the training has helped her in her current job as a mental health counselor at LSA Recovery, an outpatient addiction rehabilitation facility in Brooklyn. "I should know all of this about all my patients," says Simon. "She's such a good role model. Ultimately, it helps you get a bigger picture and helps the patient. »
The Touro OWEP is supported by the U.S. Department of Health and Human Services (HHS) Health Resources and Services Administration in an award totaling $1,338,822, with no percentage funded from non-governmental sources . This story does not necessarily represent official views or an endorsement by HRSA, HHS, or the US government.