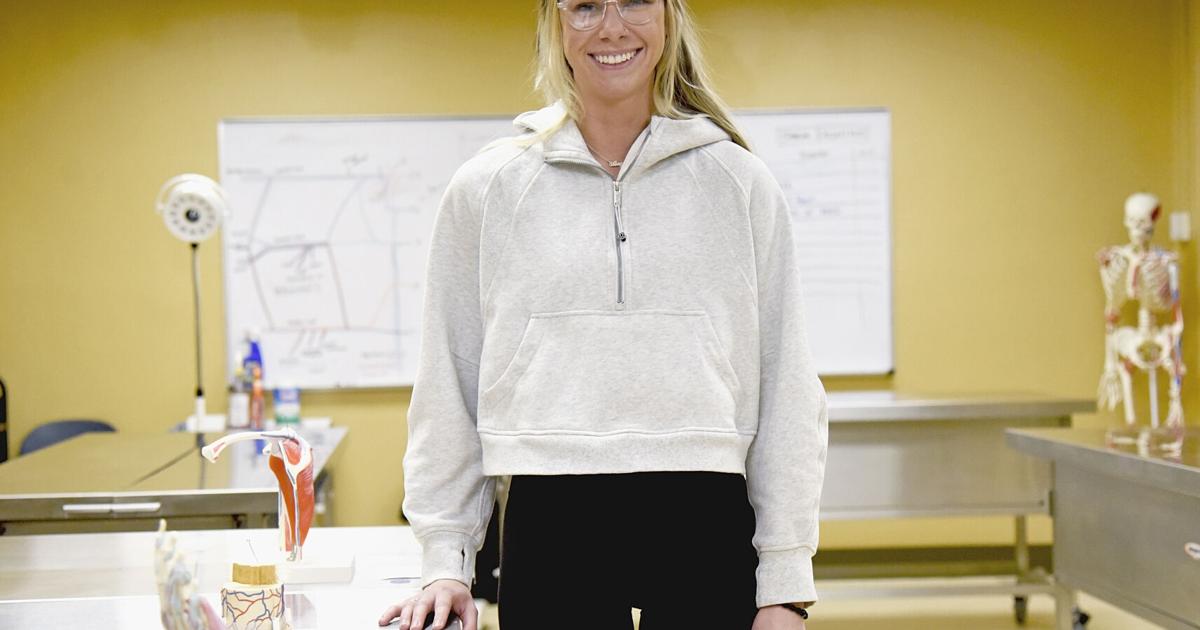 Briar Cliff Corpse Lab Provides a Learning Opportunity for Students of All Levels | Education
SIOUX CITY – Since the 1980s, students at Briar Cliff University have had the opportunity to gain hands-on learning experience by studying human anatomy.
Kelsey Stevens' students split their time between the classroom and the school's cadaver lab.
The corpses, or donors as the university calls them, are donated to the University of Iowa, which sends them to schools across the state.
Stevens, an assistant professor in the physical therapy department, said the university wanted to be intentional about how it respects donors. At the beginning of the semester, someone from the campus ministry gives a giver's blessing. Once a year there is also a Donor Memorial Service to honor those who have donated their bodies to science.
Stevens has been with Briar Cliff for over two years, but has been teaching anatomy for over a decade. She said she loves anatomy and her students challenge her.
In the spring, undergraduates can take the Advanced Anatomy and Dissection course.
Stevens said his students plan to become doctors, physician assistants, occupational therapists or physical therapists.
Students have the opportunity to take what they learn in class and see it in first person through dissections.
She said the class was designed as a "mini medical school" to give them experience before going to vocational school. Stevens worked for the Sanford School of Medicine and modeled the curriculum to prepare students for this type of program.
Students will do preparatory work outside of class time, where they listen to pre-recorded lectures and do readings. During the first half hour of class, Stevens will answer questions from students. She will also ask them application questions to engage students in learning at a deeper level.
"They must know the name of that muscle, but that's not going to be the question I'm going to ask. I'll say 'you have nerve damage to a particular nerve, which muscles will be affected?'" she said.
After the undergraduate course, doctoral students in physiotherapy can use the same donors during the summer.
"[The undergraduates] know that as we work, we have to take special care to preserve the structures," she said.
Special dissections will take place during the undergraduate course to examine clinically relevant body parts, such as the joints for physical therapy students.
"So when the DPTs come in the summer, they might see conditions like arthritis, or maybe knee surgery," she said.
She said undergraduates help graduates learn by already doing the dissections. This allows graduates more time to apply what they learn.
New students in the university's occupational therapy doctoral program will also use the cadaver lab.
Stevens said it's amazing to see students who want to help people and change lives.
Currently, there are 10 students in the undergraduate class.
Abbie Ericson, a physiotherapist, said the course was unlike any other she had taken.
"It's more practical and more applied to graduate programs," she said. "It's more difficult than the other courses I've taken, but much more interesting."
Sophie Kramper, a graduate in exercise physiology, agrees, saying the experience is like being in college.
For students not in class, there is a new Anatomy Interest Group. People on campus are invited to special dissections.
For example, the group did a dissection of the pelvic floor, which is a burgeoning field of medicine. Pelvic floor specialists came from Sioux Falls to speak with students in the area and talk about the dissection.
"We want to do more activities where we bring our students, faculty, and professionals so they can interact and learn from each other," Stevens said.