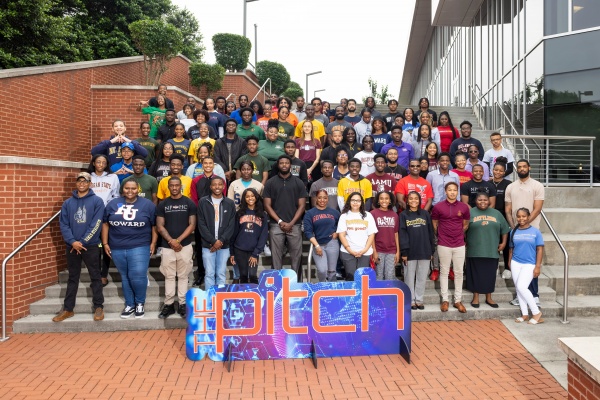 (BPRW) Thurgood Marshall College Fund (TMCF) Awards Over $30,000 in The Pitch Competition to College Entrepreneurs and Innovators | Press Releases
(BPRW) Thurgood Marshall College Fund (TMCF) awards more than $30,000 in The Pitch competition to college entrepreneurs and innovators
(Black PR Wire) Thurgood Marshall College Fund's (TMCF) annual "The Pitch" business competition was held May 22-26, 2022 at Winston Salem State University. College innovators participated in a hybrid competition and were supported with innovative workshops and mock sessions. The event brought together more than one hundred students from Historically Black Colleges and Universities (HBCUs) located across the United States, in addition to 12 students who competed virtually across the metaverse.
The top prize of $18,000 went to TMCF MetaScholars team members Phoenix, Zion Meslon, Morehouse College; Lance Davis, A&T University of North Carolina; Nicolas Hardin, University of the South and A&M College; Marcellus Northington-Winston, North Carolina A&T University, and Georgiana Wright, Alabama A&M University. As part of The Pitch, they competed in the Metaverse, a virtual reality experience, showcasing a startup focused on decentralizing the storage protocol designed to store private and social data on any device. First place winners also received internship opportunities at fan base and business coaching with the founder and CEO, Isaac Hayes III.
Second place winners are the future of finance, Amber CurtisFisk University; Dasani Stallworth, Alabama A&M University; Elijin Rhymes, Florida A&M University; Turner IndicaVirginia State University; Nyla Chenault, Hampton University; and Ramiah Curry, Morehouse University. GW the Future of Finance aimed to create greater access to financial literacy education by creating metaverse-centric software that allowed children to use cutting-edge technology for real-life simulations and playful educational content. Participants won a cash prize of $9,000.
Third place honors went to The Pitch Sixth Sense team Alexis Presnell, Alabama A&M University; Anita Bozhko, Alabama A&M University; Shavandra Hooks, Florida Agricultural and Mechanical University; Shemaya Bridgewater, Howard University; and Treyvion Hall, Virginia State University; delivered a non-profit agricultural enterprise designed to train and educate people in highly food insecure areas to create a workforce for poor families to teach sustainability while growing their own produce for consumption, thus slowly reducing food insecurity in large parts of the country. They also received $2,500 in scholarships.
"Now that we have completed this year's The Pitch, I couldn't be more proud of this group of students who stand out," says Martin G. Martin II, program director of the Division of Innovation and entrepreneurship of the TMCF. "We selected 100 of the brightest young minds from across the HBCU and PBI landscape, and immersed them in a program centered around developing an intra/entrepreneurial mindset. This signature program has also offers a unique opportunity for students to expand their networks and gain feedback on their entrepreneurial career goals and aspirations that complement their classroom learning. TMCF is dedicated to investing in opportunities for young entrepreneurs to take risks, collaborate and research their ideas to advance the industries they think about.
All participating college teams had a curated experience to develop their ideas in innovation pods powered by Toyota Motor North America. Pitch winners received over $30,000 in scholarships and prize money. This year's PITCH sponsors include The A. James & Alice B. Clark Foundation, Medtronic, TPFoundation, Reynolds American, Chevron, Black Ambition, Daily Pay, Mytaverse, Lending Tree, Wells Fargo Bank, fan base and CrowdStrike. The event also featured a fireside chat between entrepreneur Kadija Dosse of Dosse Beauty and Jermeen Sherman of Black Ambitious Prize.
About the Thurgood Marshall College Fund Innovation and Entrepreneurship Division
Established in 1987, the Thurgood Marshall College Fund (TMCF) is the nation's largest organization representing exclusively the Black College community. TMCF member schools include historically black colleges and universities and predominantly black institutions, which enroll nearly 80 percent of all students attending black colleges and universities. Through scholarships, capacity building and research initiatives, innovative programs, and strategic partnerships, TMCF is a vital resource in the PK-12 and higher education space. The organization is also the source of top employers seeking top talent for competitive internships and good jobs.
TMCF is a 501(c)(3) tax-exempt charitable organization. For more information on TMCF, visit: www.tmcf.org.
The content and opinions expressed in this press release are those of the authors and/or companies represented, and are not necessarily shared by Black PR Wire. The author(s) and/or companies represented are solely responsible for the facts and the accuracy of the content of this press release. Black PR Wire reserves the right to reject a press release if, in Black PR Wire's opinion, the content of the release is unsuitable for distribution.