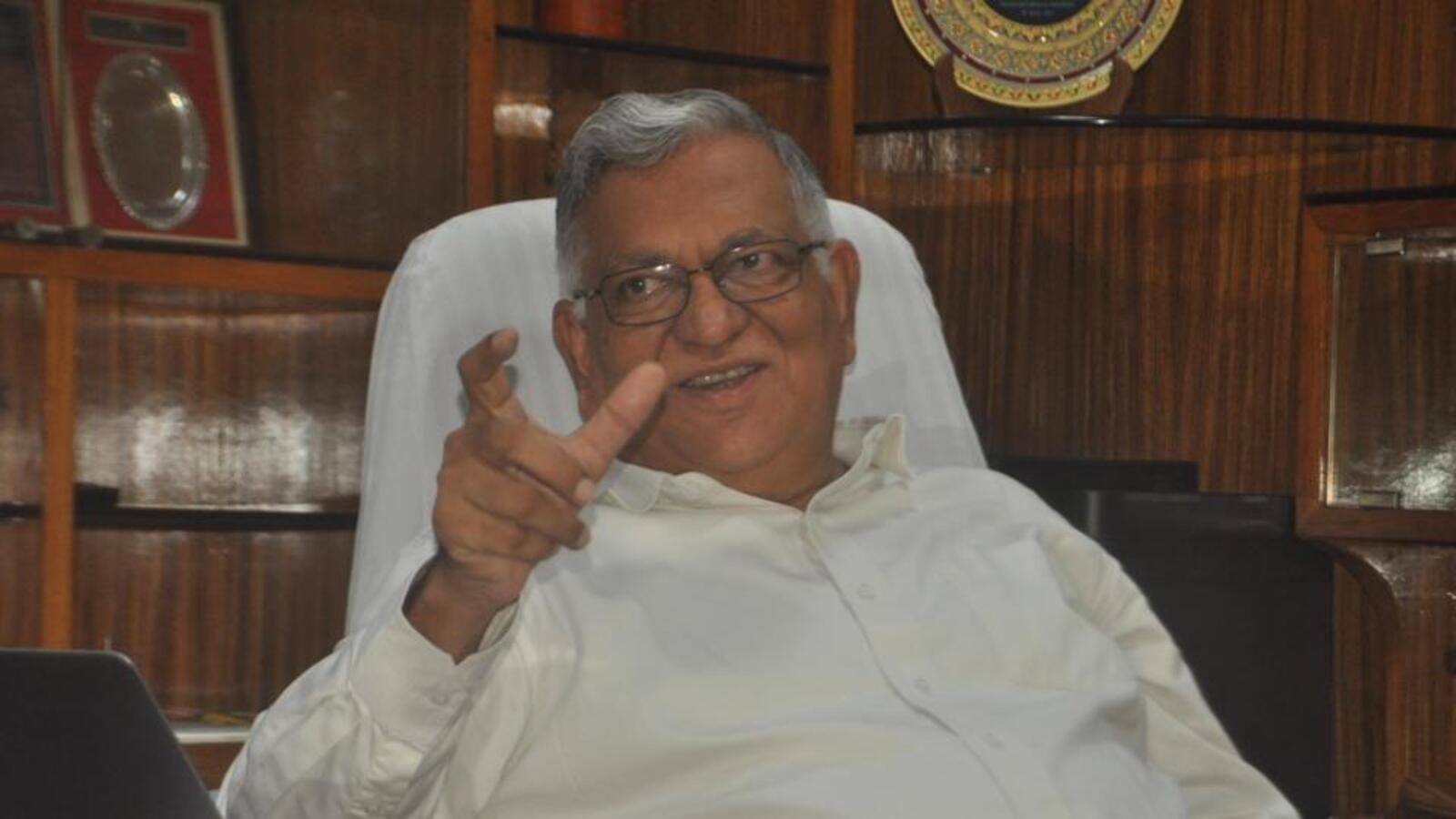 BHU Vice Chancellor says learning has many layers and emphasizes communication with students
Professor Sudhir K Jain has recently completed eight months in office as the 28th Vice-Chancellor (VC) of Banaras Hindu University (BHU).
Jain, former director of IIT Gandhinagar, is an internationally renowned earthquake engineering specialist, who was awarded the Padma Shri for distinguished service in science and engineering in 2020. Hindustan Times interviewed the BHU VC to find out the challenges he faces as an education administrator and what areas he thinks still needs work to bring about change. Edited excerpts:
Q: You have been in IITs and engineering institutes throughout your life, either as a student or as an educational administrator. How is it at a university? Which do you find more difficult, an IIT or a university?
A: Yes, it is true that I am new to the university system. I come from a totally different ecosystem but as I used to tell my students that they should continue to learn throughout their lives, the same applied to me too. Learning has many layers and never ends. Therefore, as I do my job with the best interests of the institution in mind, I also continue to learn. IITs are a different setup and have their own challenges and requirements. Likewise, the university system has its own challenges. So you can't just say which is harder and which is easier.
Q: You have been in office for almost eight months. I'm sure you may have shaped many of your plans already. But again, tell us about your main priorities as Vice-Chancellor of BHU?
A: The guiding principles for managing an educational institution have three basic elements. First, recruit good and talented people, whether students or staff. Second, treat them well by providing them with resources and infrastructure to work and develop. Third, build a culture of mutual respect and cooperation, which encourages them to work and contribute. Once we reach the third, we can complete the first two. Our top priority is to create a culture and atmosphere where people are motivated and high-spirited. The BHU has enormous talent, it has sufficient resources in terms of infrastructure. We are now focused on building a culture and ensuring good governance that inspires people to fight together.
Q: I had the opportunity to review the recent initiatives taken by the Hindu University of Benares, of course after you took over. One of them is 'Teach for BHU'. What prompted you to propose such a scheme? What is the progress in this regard?
A: A university is like a human body. You have to work on every part of this body. It's not like you focus on one member and ignore the others. Likewise, we work for the growth and empowerment of all sections of this great institution. This idea was at the heart of the 'Teach for BHU' scholarship program, as we wanted to ensure that the valuable time of our brightest scholars was not wasted as there is a huge time gap between the date of submission of their doctorate. . theses and graduation. Thus, those selected under the program on the basis of merit and performance will be offered a scholarship to work and teach at BHU for one year. This will help these brilliant scholars gain exposure for their upcoming professional lives. We have already made selections for this scholarship and a number of these scholarship holders are currently working at BHU.
Q: Despite new initiatives, we also see BHU making headlines for undesirable reasons. In your opinion, what can the university do to remedy this?
A: The situations you have described as undesirable or undesirable will not occur if we are consistent. Consistent in our work whether it is admissions, selections or other parts of administration and academics. Once we become consistent in our operation and practice the utmost transparency, such situations will no longer occur. Second, there might be occasions where the lack of communication between the university and those protesting might be one of the reasons. We therefore work to ensure that there is constant communication and interaction with students and other stakeholders. It is therefore clear that we must improve our systems and we are working on it. Another important aspect is that when certain events are unnecessarily highlighted, others are also encouraged to join the camp. Therefore, it is also necessary to highlight the constructive and positive sides.
Q: I read that alumni relations and outreach is your area of ​​expertise. BHU has a huge alumni base. How do you plan to exploit this? Also, when is BHU planning its alumni reunion?
A: Yes, we will organize an alumni meeting when we are ready. BHU alumni are its greatest strength. We try to connect with as many BHU alumni. Especially since we have set up a group in the United States and are making efforts to expand this network. We are also in the process of maintaining a proper and detailed database of BHU alumni. BHU alumni have a very strong sense of connection with the Hindu University of Benares and have a very important role to play in the growth and progress of the university.
Q: You also started a big Pratidana donation campaign soon after you took charge. What was the overall response to that? Would you like to share the general figure of donations received by BHU?
A: Mahamana built a university like this through the contribution and donations of people who were not even university students and did not benefit from it.
BHU now has a huge alumni base and we hope that with their cooperation and guidance, we will take the university to new heights. There is still a lot to do and we are working on it.
Q: Let's talk about rankings. BHU slipped in the NIRF ranking. What are the areas you are focusing on to improve BHU's ranking, nationally and globally?
A: I feel that rankings, wherever they are, do not accurately reflect the strengths and capabilities of universities. I do not understand how an institution climbs several levels at once in one year and the other suddenly plummets. So there are flaws that don't do the institutions complete justice. However, the rankings are also a great opportunity for institutions to self-evaluate and look at things that need to be done more professionally and efficiently. It is also an opportunity to prepare and manage data and information on overall performance and to realize what remains to be done. This is a good thing.
Q: What are the major initiatives taken by Banaras Hindu University to improve student facilities and infrastructure?
A: I tried to be consistent. I treat everyone the same, regardless of their designation position. We must earn the trust and confidence of our people. We work to make things easier and simpler. Efforts are made to make things easier so that people do the best they are supposed to do and don't get stuck in bureaucracy and administrative hurdles. A key initiative in this regard is the Sponsored Research and Industry Advisory Cell, which will be a one-stop platform for faculty members, researchers and scientists to manage their projects. Previously, they had to run from pillar to post to get things done. Now they don't need it anymore.
Likewise, we empower our students, faculty members, and staff. We have launched a travel grant for those wishing to travel abroad for academic or research purposes. We have also launched a professional development fund which can be used by teachers and staff for their professional needs and growth.