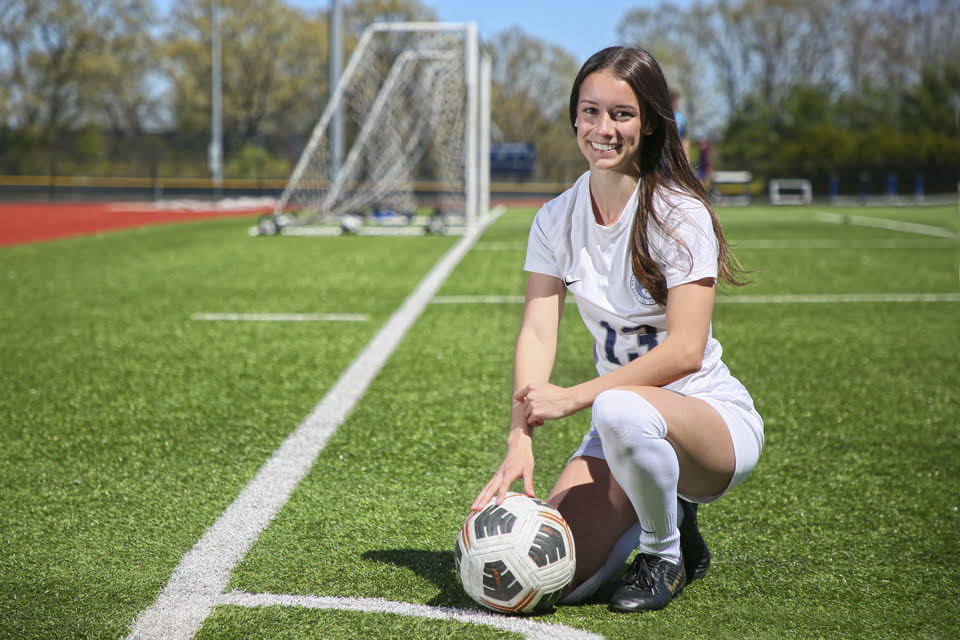 5 senior star athletes share their stories
5 senior star athletes share their stories
By Kennedy RyanMay 13, 2022
The life of a student-athlete is a balance between daily training and weekly trips to games, in addition to studies and socializing.
To do this successfully for four years or more takes determination, dedication and discipline.
With Beginnings Around the Corner, five graduates who have stood out – on and off the field – shared what made it all work for them and what they look forward to in the future.
Focus and become a leader
Juliette Carreiro '22, a double major in biology and psychology, has been playing football for as long as she can remember.
"I joined my first team when I was four, but even before that I could be found playing football with my family," Carreiro said.
During her four years at Brandeis, she accumulated her accomplishments in the classroom and on the field.
Along with being chosen as a 2021 Athlete All-American and Academic All-American, nominations for a number of student-athletes nationwide, Carreiro held a 4.0 GPA throughout her four years at Brandeis. . She contributes her success to her busy routine.
"Having a busy schedule kept me focused," Carreiro said. "Being dedicated to both schoolwork and athletics – these two have worked hand-in-hand in my success."
After graduating and taking a gap year, Carreiro plans to enroll in medical school.
Although she still has a class to complete in the fall to graduate, Carreiro will walk early this spring.
With the NCAA granting an additional year of eligibility to all Division III student-athletes who missed a season due to COVID-19, it will also be able to complete another football season on campus.
She is delighted to play one last season, but is especially looking forward to seeing her teammates succeed in the next games.
"I have known many of these players for almost five years now. As captain this year, my goal was to motivate everyone in every game," said Carreiro. "I'm really excited to keep coming back and see what the team can accomplish."
Run across countries
Erin Magill, a double major in Linguistics and French and Francophone Studies, started running when she was 9 years old. Since then, she has fallen in love with him. She chose Brandeis because of its linguistics program, campus size, and cross-country team.
"I wanted to compete with a Division III team," Magill said. "While researching the schools, I found that Brandeis had a team that ranked highly on the national rosters."
While at Brandeis, she balanced her schoolwork with her dream – developing enough speed to qualify for national championships.
"The seven fastest members of the team are racing at nationals," Magill said. "In my first year at Brandeis, I was the 8th. I was able to make it to the nationals, but I looked sideways. After that, it became a goal for me to compete.
As a senior, she finally got the opportunity. She placed well at the National Cross Country Championships, receiving All-American honors for finishing in the top 40 at the Division III Nationals.
Along with running his way to Nationals, Magill held a 4.0 GPA throughout his four years at Brandeis. Balancing classes with athletics can be difficult, but something Magill confidently pursued due to her passion for running.
"I can balance both studies and athletics because running is what I enjoy the most in my day-to-day life. I can't wait to go to training and work towards my goal", said Magill "For me, I don't see racing as a job."
After graduation, Magill plans to teach English in France. There is no doubt in his mind that running will always be part of his routine.
"I don't see myself giving up running anytime soon," she said.
Exceed expectations and embrace a new chapter

Jolie Fujita, from Honolulu, Hawaii, will complete her Brandeis experience with an undergraduate degree in commerce and a master's degree in international finance and economics with a concentration in marketing.
She chose to attend Brandeis due to the warm reception of the softball team when she visited campus.
"I wanted to be close to Boston because it's my mom's favorite city," Fujita said. "After meeting the team, I knew I wanted to be here. I didn't know what I wanted to specialize in, but I was confident in my choice because of the options available to Brandeis.
Starting at shortstop, Fujita helped the team qualify for the NCAA Division III Tournament for the first time in a decade. After moving to regionals in 2019, the team returned in 2021 as the first team in Brandeis history to return to compete in consecutive seasons.
"It was amazing, exceeding everyone's expectations," Fujiita said. "I truly believe we changed Brandeis softball forever by showing people that we can be great."
In addition to making team history, Fujita was selected to the All-University Athletic Association and awarded the National Fastpitch Coaches Association All-America Scholar-Athlete in 2021 for academic excellence. She found her academics to thrive during the softball season.
"It's really funny…a lot of us find that we do better in school during the season," Fujita said. "We had limited free time, so we had to maximize every second of the day. It allowed us to stay focused.
After graduation, Fujita hopes to work in the advertising industry at Hill Holiday in Boston. She plans to continue playing recreational softball in a league this summer in Honolulu, but is looking forward to exploring a new time in her life with different hobbies.
"Softball has been central to my whole life," she said. "Maybe I will become a boxer! Maybe I'll try bungee jumping.
Draw skills from the field

Mike Khoury '21 completed his undergraduate degree in American Studies with a minor in business in the spring of 2021, but did not have the opportunity to participate in his final baseball season. Like Carreiro, he enjoyed an extra year of eligibility due to COVID-19.
Khoury returned to Brandeis to pursue a master's degree in project and program management from the graduate program while playing a final season on the men's baseball team.
It was an impressive season. Khoury was selected as the National College Baseball Association's Division III National Hitter of the Week in March. His greatest joy, however, was returning to the field with his teammates.
"Family is the biggest word that comes to mind when I think of the team," Khoury said. "I've met some of my closest friends through baseball."
Khoury hopes to work in the consulting industry after graduation. He doesn't know if he will continue to play baseball, but he knows his skills translate beyond the field.
"Being a team player and managing a busy schedule taught me skills that I will take with me," he said. "I know I'll be ready for any schedule in the professional world."
Preparing for the future as a team player
Nolan Hagerty came to Brandeis to play basketball, but that was only part of the reason for the double major in psychology and philosophy with a minor in legal studies.
"I chose Brandeis because I wanted to find one of the best psychology programs near me," said the Yarmouth, Maine native. "I knew I wanted to prepare for graduate school."
Having played basketball since the age of three, Hagerty joined the basketball team and quickly found it to be his home away from home. The team spent time together on and off the field, playing intramural softball and studying together in their spare time.
"We are all very close," he said. "We are very competitive and serious on the pitch, but we are clumsy everywhere else."
He completed his basketball experience at Brandeis with an honorable mention in the All-UAA selection.
After graduation, Hagerty plans to spend a year working in a psychological hospital before applying to doctoral programs in clinical psychology. His experience on the Brandeis basketball team came in handy during his job interviews.
"I've mentioned basketball many times in interviews for the roles I'm applying for," he said. "When you're part of a team, you have to learn to work together towards a common goal. Workplaces are definitely looking for people who are team players. »