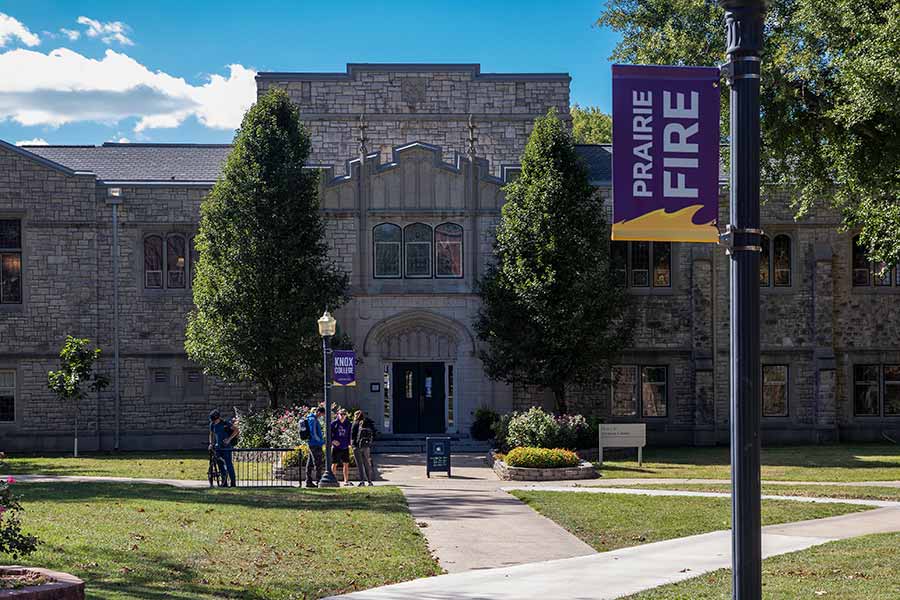 21 interesting Knox students and alumni we met in 2021
[ad_1]
Cecilia Pinto '81 (1) is a fiction writer and educational artist. His news, Imagine the dog, won the 2020 Clay Reynolds Novella Award. Several current students have received prestigious awards this year. Becca Gadiel '22 (2) was chosen as the 2021-22 Student Fellow of Knox College at the Lincoln Academy of Illinois. Sophia Bowley '22 (3) received the Faculty Scholarship Award at the Convocation Opening Ceremony from Knox in 2021 and Kyle Williams '22 (4), received a scholarship from the Chicago Chapter of the National Association of Black Journalists.
In the fall of 2021, new minors were introduced to Knox's academic programs, one of them being Spanish translation and interpretation. Eric Espinoza '23 (5) is an exemplary student for the new minor, having volunteered for various projects and clinics, and having been hired by Worldwide Languages ​​as an interpreter.
In the ever-changing world of technology, two alumni we met in 2021 have focused their careers around software. Ginny Graves '10 (6) leads a team with a start-up, Association Analytics, which provides business intelligence software to the association market. Harry Carpenter '18 (seven) developed life insurance and annuity software for LIDP.
Major in Business and Management is now a premier program at Knox. Current Students Elijah Crump '22 (8) and Andrew Hand '22 (9), are both majors and have had significant success and opportunities in the program. Crump hooked up with a Knox alumnus and worked in finance on a summer internship. Hand came to Knox as a transfer student and found Knox to be the perfect fit for him while working with the Faculty of Business and Management. While majoring in computer science, Kam Wells '17 (ten) minor in business and management and a self-designed minor in athletics analysis. Wells is currently a data engineer for the Boston Red Sox, combining his interests in baseball and computer science.
Although they may not have specialized in business in Knox, Khyati Shah '99 (11) and Pamela Hernandez '22 (12) both have successful careers in the corporate world. Shah is currently Senior Vice President of Corporate Communications at Kinara Capital, a company that promotes financial inclusion for small business entrepreneurs in India. The company was founded by Hardika Shah '99, a former student of Knox, sister of Khyati and CEO of Kinara Capital. As an entrepreneur, Hernandez started his own social science research company, Educo Research.
The pandemic has brought to light how very important teachers are in ensuring that future generations receive the education they need, even in almost impossible situations. Knox fulfilled this alumni need. Jason Maclin '07 (13) is currently the director of Vista PEAK Preparatory in Colorado, and his time as a director and educator during a pandemic is enlightening. Recently graduated Katy Coseglia '20 (14) discovered the opportunity to teach in a school district in an Alaskan village and enjoyed learning from the people of the village and teaching her students new skills.
Being as involved as possible is how Melvin Taylor '14 (15) describes her time since graduating from Knox. After holding several different positions and career paths, Taylor is currently working as a writer at Heavy.com, an online news platform that covers breaking news, sports, entertainment and shopping.
In science, Natalee Young Hau '13 (16), who majored in biology, rekindled her passion for science when she began working as a medical laboratory technologist during the pandemic. Britney Salinas '22 (17) is majoring in biochemistry and is taking the opportunity to conduct research in a new collaborative program while working on the Solutions of Nature project on the Knox farm. After graduating with a biochemistry degree from Knox, Taliah Ellis '19 (18) is attending medical school and considering a career in orthopedic surgery and sports medicine.
Jessie Johnson '12 (19), and Jon Gripshover '06 (20) are in different careers than they imagined when they first came to Knox. Johnson is the founder and CEO of a successful food blog called Life As A Strawberry. Gripshover opened Accessibility Compliance Testing Services, a new program in the Digital Services Division of the California Prison Industry Authority.
Knox students are so dedicated to learning that some started coming to Knox even before graduating from high school. Emma Curry '24 (21) took advantage of the Early College program, which led her to decide to go to Knox.
2021 has been a year that has shown us that nothing can stop the Knox community from reaching new heights on and off campus. The resilience and determination of our community continues to shine, as it has for nearly 185 years.
[ad_2]