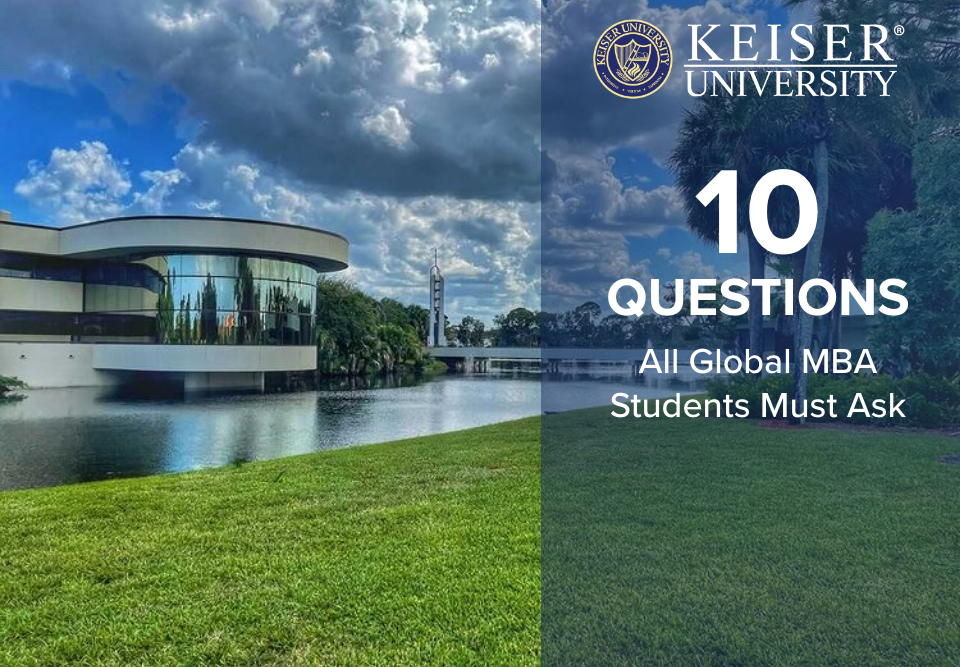 10 Questions All Global MBA Students Should Ask
The modern business world is becoming increasingly international. Most companies do business outside of their country's borders, and this international reach requires an understanding of culture, international business practices, global trade law and much more. As a result, many business professionals pursuing an MBA will opt for a global MBA instead of a traditional MBA. If you're considering going back to school for an MBA and are interested in a Global Perspective MBA, here are ten questions you might want to ask before enrolling.
1. How is a Global MBA different from an MBA?
First, you need to understand the difference between a Global MBA and a traditional Master of Business Administration. Although similar, these two programs are not quite the same thing.
A Global MBA program is a variation of the traditional MBA. It focuses on international business management. This is very important in the modern business world because modern companies do business with more than their local communities. This degree provides training similar to an MBA, but adds an international focus and perspective. Related subjects include international marketing and finance.
2. How can I best prepare for a Global MBA program?
To apply for a Global MBA program, you will need to:
Have an updated resume with current references and some letters of recommendation
Prepare and pass the GMAT as a good score will increase your chances of entering the program of your choice
Expand your network to help you get more referrals
Decide on your goals for your advanced training so you can choose the right choice or training path
3. Is it the right time to enroll in a Global MBA program?
The timing of your entry into a global MBA program requires some thought. Are you in a position where you can handle the extra workload? Does your personal life leave you time to study and follow your courses? Does your career offer you the flexibility you need to enter a graduate program? If it's the right time, then you need to find the right program, but if not, give yourself permission to wait. You want to have the energy and time to devote to your program to ensure you get the most out of it. The right time will be different for each person, so think carefully about where you are at professionally and personally to decide if this is the right step to take.
4. What does the alumni network look like?
One of the benefits of getting an MBA of any type is the networking opportunities it provides, and some of that comes from the alumni network. Does the program have a long list of successful alumni in their field? Does it provide a way to connect to this alumni network? Look for a program that will help you grow your network by connecting you with like-minded graduates. Studying the alumni network can also give you an idea of ​​the potential success of graduates. This can help you weigh the quality of the program. A program that has many successful graduates is obviously doing something right.
5. What is the average class size?
Large classes give you more opportunities to network with your peers within your global MBA program, but they make it harder for students to connect with each other and with their professors. Small classes offer fewer networking opportunities, but the connections you make with other students and staff can be deeper than if your classes are large. Ask about the class size and see if the program fits your goals.
6. What does a typical teacher-student relationship look like?
When looking for a global MBA program, you want one where you can build a relationship with your professors. You want to be able to learn from them, both inside and outside the classroom, and that requires a strong teacher-student relationship. These connections can be one of your greatest assets after graduation. Professors who have global business experience can apply real-world classroom scenarios as well as theoretical applications.
7. Is your Global MBA program accredited?
Accreditation shows that an institution meets a set level of standards for its Global MBA program. If you need financial assistance, this can help you secure federal and private scholarships, grants, and loans. Although not all good programs are accredited, you will have more opportunities, both during your studies and after graduation, if you pursue an accredited program, so find out about it.
8. How can a Global MBA program help my career?
Before investing time and money in a Global MBA program, you want to know that it will directly benefit you in your career. A Global MBA can help your career in several ways. You can benefit from:
Increased awareness of the global business market
Job opportunities found through your professional and alumni networks
Improved communication skills to help you advance in other areas of your career
Improved marketing for companies looking for highly qualified professionals
If you find yourself stuck in your job and unsure how to progress, getting a globally oriented MBA might be just what you need.
9. What are the costs associated with a Global MBA?
The costs of any MBA program vary depending on the institution you choose, but it's an important question to ask. You need to know if you can afford to go back to school. However, an even more important question is what the return on investment would be. Many business schools offer graduate employability reports, and these can be a good source of information about potential job opportunities available to you after you complete your Global MBA.
10. Which Global MBA program is right for me?
Finally, determine which Global MBA program is best suited to your goals. If you're still working in your professional field, it may mean you need flexibility, such as an online or hybrid program. If you need to develop your professional network, then professors and the alumni network will be an essential component of this choice. If you need to graduate quickly, a full-time, on-campus degree option may be the best fit.
Keiser University offers a Global MBA program that does all of this. With options for on-campus, online or hybrid degrees, our Global MBA program has something to meet the needs of most students. We have a team of qualified and dedicated teachers who know their students well, and we have a long list of successful alumni you can join when you complete your program. Learn more about the benefits of our Global MBA program and apply to join the Keizer University team today.